https://www.elledecor.com/it/best-of/a27022114/milan-design-week-2019-matteo-cibic-interview/
FROM INDIA TO MILAN WITH MATTEO CIBIC, THE "STATELESS VENETIAN"
With over 70 new products ready for Milan Design Week 2019, Matteo Cibic and his "Luxury fun" are unstoppable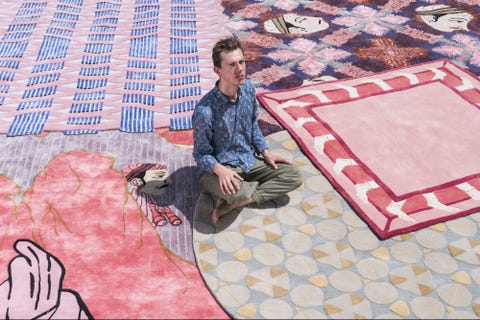 It's not easy to keep Matteo Cibic serious, and perhaps even harder to keep him still. The self proclaimed "stateless Venetian" is uncontainable in his creative freedom, cranking out everything from decorations to accessories, furnishings, and lighting.
We met with him in Milan in late March, fresh off a trip to India between "fifty meetings", a lesson held at the Marangoni Institute, and a train home to Vicenza.
His iconic animals from Paradiso Dreams, the fantastically anthropomorphic creatures in ceramic and gold finishes, are touring the world at the moment in limited editions and scaled down versions available at Lane Crawford in Hong Kong and Starbucks Reserve in Milan and New York.
Stopping for just a moment, he sits down to recount his journey through India and the 75 new products he'll be presenting at Milan Design Week 2019.
How did it go in India? Why were you there?
It was my last trip. I was there for a week in Jaipur, the capital of Rajasthan, the most colorful, friendly, and fun state of India.
I had already been to the country and have always been fascinated by their use of color, the mix and match of history and the contemporary, and the timeless aesthetic.
Jaipur is fantastic and boasts extraordinary architecture! It's known as the Pink City, or the Paris of India: everything is tinged pink, with countless shades ranging between peach and orange. It's an immersion into this very fun, colorful, and refined world. The city was first colored under the command of the Maharaja in order to impress England's Prince Albert, who visited in 1876.
And it's still fantastic. Even when it expanded, the architectural style was maintained between the arches and this very special tint. The more contemporary and minimalist architecture, whether residential or commercial, also follows this same canon and aesthetic. The resulting landscape is incredibly homogenous and continuous between the historic center and periphery. The most beautiful part is when you start to wander on the outskirts, coming across wild animals and flying peacocks.
It sounds like Jaipur has enchanted you. But why were you there, work or pleasure?
I was invited to Jaipur Rugs, one of the most important handmade Indian rug manufacturers. They contacted me to make a new collection and my idea was to give tribute to the city of Jaipur.
I described my journey through an eclectic collection that I'll now be presenting at the Salone del Mobile. Rugs on display will recount the colors, architecture, and convivial spirit of the city's inhabitants. I was also inspired by the ingenious astronomic observatory of Jantar Mantar, which was built in 700.
You're bringing 75 new products to Design Week this year! How is that possible?!
I have no idea!
So how did you manage all this work?
I have a few tricks up my sleeve…
But really, how?
In the Vicenza studio there only a few of us, three to be precise.
But there are 45 new products and 30 that are revisited. I'm collaborating with a lot of diverse companies, and some of them have asked for an entire collection. When you get to 10-12 products per line, it doesn't take long before you end up with 45.
And how long have you been working for the Design Week?
One year. I'm fortunate enough to work with companies and brands that are efficient in the prototyping and industrialization processes, and I myself in the design process try to supply a great deal of construction solutions and potential providers for components or particular tasks.
Jaipur Rugs is one of the new items to be presented. Can we go through the others?
With Editamateria x Delvis, I'm presenting a collection of tables and chairs in 40's-50's style, featuring American and Asian inspirations that are reinterpreted by expert carpenters with Italian essences. Brass inserts are accompanied by woods with saturated colors like red, blue, and green. The forms recall those of Asian roofs, but also those of old American bistros. It's a bit of China and the U.S. mixed with Italian details.
And then there's Animagic: your "animal statues", which evolve into furnishings.
Paradiso Dreams is the beast I've developed over the years: a paradise where animals meet and copulate to create new animals, which come as a product of love. The fantastical animals initially inspired by the Egyptian canonic jars have since evolved into fantastic beasts of my own invention.
Now they're becoming much bigger furniture-sculptures that reach up to 1.5 meters in height edited by Scarlet Splendour in a fusion of brass and wood.
These fantastic creatures have become your kind of calling card.
They've been with me for 18 years now!
How is that possible, how old are you?
35.
And how did you first start?
I attended an artistic high school with a special focus on architecture in Venice, then an art course in England. At 18, I moved to Milan to study at the Politecnico while I worked for Aldo (Matteo's uncle, Aldo Cibic, Ed.)
So you started with your uncle?
No! Up until 14 I wanted to be a father. Then my parents sent me to Aldo for the summer, when he had the studio near a famous modeling agency, and I decided it would be better to become a designer than a father.
You're from Vicenza, right?
No, I'm a stateless Venetian.
What does that mean?
That I grew up between Treviso, Venice, then Milan, London, Milan again, and Vicenza for four years since I have two children.
Back to Milan Design Week. You'll be at the Museum of Science and Technology with Rossana Orlandi's Guiltless Plastic, a project dedicated to reusing plastic.
There I'll be presenting a table and a cabinet realized with 100% waste materials. I found the panels produced by a Belgian company named Eco-Oh!, which uses a technology working with non-recyclable plastic: it washes the material and then creates granules that are utilized for the injection molding of these plastic panels.
Guiltless Plastic is divided into a competition for new talents and an exhibit for the Maestros. Are you among the younger crowd or the Maestros?
Among the older group, unfortunately!
Then you have Leonardo Horse Project. You were among the 13 international designers invited by Cristina Morozzi to give homage to Leonardo's Horse at San Siro.
It's a decorative initiative in occasion of the 500th anniversary of Leonardo Da Vinci's death for which we've created a 3m horse (the original horse from Leonardo must have been 7). In front of such a grandiose sculpture, I found it difficult to customize the piece in a heavy handed way. That's why I though of just dressing it with a ruff, a collar inspired by the Medieval armor and aristocratic dress from the XVI and XVII centuries with a gold leaf finish, just like the bit.
Have we forgotten anything?
Yes, I have a lamp for Il Fanale, a historical company in Treviso for whom I designed Alma. All lighting companies throughout the world have a sphere in their collection, but for some reason, Il Fanale still didn't. The challenge was to find a sphere that didn't exist already on the market and that was iconic and easy to place. From this search, Alma was born as a kind of sun that playfully recalls the idea of a ball on a swing, or a skewer, or even a pierced heart.
Then there's the Alpha Chair with L'Abbate, a tribute to Gio Ponti, but also the product of a study on the constructive Shaker grammar of the late 19th century. Finally, with JCP, I've made prototypes of future domestic plants that have become armchairs and tables with fun and colorful fruits.
What is the Matteo Cibic touch?
Luxury fun, two words that sum up what I do.
How will you manage to be at all the stands and showrooms for Milan Design Week?
I have a lot of lookalikes!
Your last project will definitely be fun. The final party at the Arizona 2000 club with friends of friends, can we invite our readers?
Sure, but let's not say which day!
MILANO DESIGN WEEK WITH MATTEO CIBIC
In the City
InEDITA Collection – Editamateria x Delvis, Via Palermo 11, April 9-14
Jaipur Wunderkammer – Jaipur rugs, Palazzo Litta, 1 piano, room 1, April 9-14
Leonardo Horse Project – Ippodromo Snai San Siro, Piazzale dello Sport 6
Ro Plastic – Master's Pieces, Guiltless Plastic curated by Rossana Orlandi – Museum of Science and Technology, Railroad Pavilion, Via San Vittore 21, April 6 – 14
Salone del Mobile – Rho Fiera
Animagic Collection – Scarlet Splendour, Pavilion 6 stand C39
Ttemic & Mettic – JCP – Pavilion 16 stand E37
Alma Lighting Collection – Il Fanale, Pavilion 13 stand B08
Alpha Chair – L'Abbate – Pavilion 6 stand B22